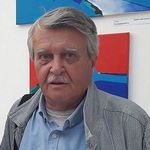 Jiří Mocek
*1945
Academic  painter
Biography
In the years 1957-64 he attended the art courses of the academic painter J.Š.Maleček. In the years 1960-64 he studied at the Secondary School of Applied Arts at prof. akad. arch. J Šácha.
Additional info
Since 1966 painter Jiří Mocek has been actively exhibiting his paintings both in the Czech Republic and abroad. He travels abroad a lot and creates thematic cycles of paintings.
Exhibitions in the Czech Republic - Prague Gallery / Kampa /, Chodovská tvrz, Karolinum, gallery Lapidaruim etc. Brno, Olomouc, Ostrava and others. Exhibitions Abroad - Salcburg Kunst aus Prag, Vienna UNO CITY / UNESCO /, Gene Europ art, Berlin Dialogues, Erbach Gallery N, Frankfurt - Kunstforum and many others.
The work of painter Jiří Mocka is recorded in bibliographies of many authors such as H. Haydon "Jiří Mocek exibition revives" real painting "Stránský" Jiří Mocek ", Who is Who 1992," The Art of the 20th Century 1970-2007 "
His paintings by Jiří Mocek are represented - the National Gallery of Prague, the National Literature Memorial, the Alsova South Bohemian Gallery, the Gallery Baukunst - Cologne, the Prague City Center - Prague.
Painter Jiří Mocek is the winner of the Masaryk Academy of Arts Prize.
Other artworks by this author