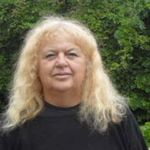 Zdenka Marschalová
*1951
Academic painter
Biography
The leading painter Zdeňka Marschalová studied at the Secondary School of Fine Arts. In 1975-78 she graduated from the Academy of Fine Arts in Prague, atelier of prof. Jan Smetana, deals with painting and drawing.
Additional info
She participated in joint and solo exhibitions such as Gallery H-Circle, NISHIVOMIYA, Tokyo, Japan, Art Basel Switzerland, Kellys Gallery, Edinburgh, Great Britain, Schlüssel Gallery, Unterehrendingen, Switzerland, Wettingen Gallery, Switzerland, Kunstpavillon, Oberndorf bei Salzburg, Pupilla Gallery , Reutlingen, Germany and many others.
3 x Frauenforum - Germany, Roll over I and II Hannover, 2 x Stift Eisgarm Austria. Represented in the collection of the National Gallery in Prague, in the international collection in Lidice, in the Minorit Gallery in Graz, in the collections of Klagenfurt, Borna, Wettingen and Ballerup.
Other artworks by this author