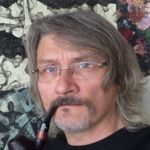 Miroslav Pangrác ml.
*1967
Painter
Biography
He was born on 1967 in a significant Czech sculptor's family, which enabled him to grow up in a fine art setting and absorb a genius atmosphere of loci ateliers, foundries and work rooms of all the family friends he used to visit with his father.
Searching for symbols and forms hidden beauty related to colored moodiness he turns aside from landscape painting and inclines still more to abstract painting. Around 1998 he started to sign his masterpieces in abbreviation called Grác.
Additional info
In 2009, at the instigation of journalist Ivo Mička and the director of the TGM museum in František František Povolný, he emerges from the shadows and begins the era of solo exhibitions.
He regularly exhibits, his paintings are represented in collections in the Czech Republic and abroad. In 2011 included in the Dictionary of Rakovník artists and Artarchiv - information system for modern art.
He is a member of the New Association of Prague Artists.