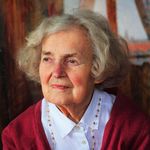 Helena Slavíková
*1924 ✝2023
Biography
Helena Slavikova studied at Secondary State Graphic School in Prague under Professor Baláš and in 1945-51 at the Academy of Creative Arts in Prague under Professors Želibský a Minář, then she spent a honorable year at the graphic studio of Professor Pukl.
She is a member of JUV, of Femina Art group. She is a painter and graphic artist. He also teaches different techniques of creative art at the Basik Art School.
Additional info
She has held 10 solo exhibitions and taken part in 78 exhibitions. She is represented by her works in the Orlicka Gallery, Novogradska Gallery and in other public and private collections at home and aboard.
Other artworks by this author