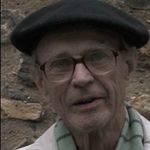 Věroslav Bergr
*1928
Academic painter , sculptor, graphic artist and illustrator, co-founder of creative group A59.
Biography
Well-known painter Věroslav Bergr studied at the Academy of Fine Arts in Prague in the studio of prof. Ivan Kulc / 1880-1952 /.
1952 - Married to the writer and translator Zdenka Bergrová / roz. Vovsova. At that time he made sculptures of patinated and sunburnt wood, painting abstract landscapes influenced by the music of Debussy and Ravel. He studies applied art at the Secondary School of Fine Arts, now Vaclav Hollar School of Fine Arts in Prague. 1958-70 - Creates structural paintings, a cycle of about 70 paintings inspired by Gustav Mahler's music. It establishes the creative group A59 which dealt with structural abstraction - informel. Illustrated by the monograph technique, translations by Z. Bergrová verses Li Po / placed in the collection of the Museum of National Literature in Prague /. He is a member of the Union of Fine Artists in Prague, a member of the Prague Painters Association, and is dedicated to painting and illustration.
2011- realizes a set of acrylic paintings Homage to Mahler.
Additional info
Presented in the publications: Who's Who in the World, 2000 Edition, Marquis, USA Oustanding Artists and Disigners of the 20th Century, 2001 IBC Cambridge, Diderot, Prague 2001
Věroslav Bergr is represented by his works: National Gallery in Prague - sculptures and graphic collections, Monument of National Literature, Prague City Gallery, Army Art Studio, Regional Gallery of Modern Art Hradec Králové, Art Gallery Karlovy Vary.
He is the recipient of the Franz Kafka Prize for graphic and sculpture work, the Euro Pragensis Ars Prize for lifelong work, in particular for the Mahler theme, and awarded many diplomas for artistic activity.
Since 2009, Věroslav Bergr has been a member of the International Vesuvian Academy in Naples, awarded with the Vesuvian Academy Diplomas.
Other artworks by this author