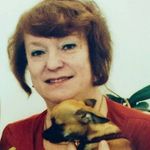 Věra Kubík Kdolská
*1946
Painter
Biography
She studied art schools in Bruntál and Olomouc. She worked in the well-known Prague arts craft in the glassworks, where she dealt with glass and mosaics. She has made proposals from well-known artists such as Prof. Karel Svolinský, prof. Cyril Bouda. She has been involved in the reconstruction of works of art and heritage buildings.
In his work the painter portrays the Czech landscape, especially the Šumava, the surroundings of Strakonice, the river Vydru.
Additional info
Věra Kubík - Kdolská belongs to the authors with frequent exhibition activities. She has participated in many exhibitions in the Czech Republic and abroad eg Germany Nuremberg and other cities, Austria, Switzerland, Japan, USA.
Other artworks by this author